Back Roads Mandolin Vol. 2
32 Original Compositions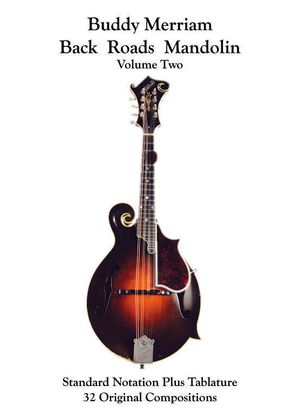 Now available
Buddy Merriam releases his second book of original mandolin compositions, BACK ROADS MANDOLIN Volume Two-  32 Original Compositions, containing all his tunes from his last four recordings along with six new pieces.

BACK ROADS MANDOLIN Volume Two features many of Buddy's most popular compositions including "Blue Grass Time"- the theme song to his long running popular radio program on WUSB 90.1 fm, "Baldassari", "Circle of Chiefs", "Mason's Restaurant" and tunes written for his family members - "Harmony's Waltz", "My Dear Mother's Waltz", "DeVine Time" and "Avery Anne's Reel". Audio tracks are available as well.
 
Transcribed by master mandolinist Lou Martin, the book includes notation and TAB along with some photographs from Buddy's private photo collection.

Celebrating 35 years with his bluegrass band Buddy Merriam & Back Roads he also presents his original music with The Mandolin Experience. Buddy learned bluegrass music and mandolin one to one from the Father of Bluegrass, Bill Monroe. In turn, Buddy has mentored scores of young bluegrass musicians, teaching them "how to play it right."


"Virtuoso mandolin playing!"  ~WKET TV (PBS "Jubilee")

Performing with his bands, hosting "Blue Grass Time" radio, teaching mandolin and composing music Buddy is helping propagate and grow the music that has been his life for over 40 years.
"...Mandolin Master."  ~ Bluegrass Unlimited   

In 2015 Buddy received the "Long Island Sound Award" from the LI Music Hall of Fame.