Buddy Merriam - Mandolin
"Virtuoso mandolin playing!"   ~KET TV
Born 10/7/52 in Hartford, Connecticut, he formed Buddy Merriam and Back Roads in 1980 out of his love and respect for traditional Bluegrass music. He became close friends with the Father of Bluegrass music, Bill Monroe, and got to learn and eventually perform with him.
On Sept. 19,2015 Buddy was honored to receive the "Long Island Sound Award" from the LI Music Hall of Fame "For Outstanding Contributions to Long Island's Musical Heritage."  Buddy's second book of original mandolin music "Back Roads Mandolin Vol. 2" will be released in October of this year as well.

Buddy brought Back Roads down to the Grand Ole Opry in Nashville to perform a few times. They've also performed at the Grand Opening of the BLUEGRASS MUSEUM AND HALL OF FAME and Country Music's Fan Fair in Nashville, TN. The group has played at most of the Northeast Bluegrass Festivals (including Grey Fox &Podunk) and at Long Island venues like Hecksher Park in Huntington, Bald Hill Cultural Center, Agawam Park in Southampton, and concerts for LITMA, Huntington Folk Music Society and the Museums at Stony Brook Folk & Fiddle Festival.
They were also featured at the International Bluegrass Music Association's WORLD OF BLUEGRASS SHOW in Owensboro, KY and Fan Fest in Louisville in 10/04. In Nov. of 2004 & 2007 the band did a successful tour of Ireland, Scotland & England.
Featured in Mandolin Magazine, Bluegrass Unlimited, CMT's "Bluegrass Sound", Flatpicking Magazine,WKET TV, PBS "Jubilee", PBS "Farming the Future", Independent Films; "Bluegrass Journey", "Bobs Rolling Reefer", "Iowa State Fair",and "Bradstock-The Movie and"The Wes Houston Show", Local publications; Newsday, Long Island Pulse, North Shore Sun, Good Times Magazine.
 Buddy has 7 CD's released on Lily Pad Records and a book of 30 original mandolin tunes (Back Roads Mandolin) newly released in 2011 with TAB. Vol. 2 will be released in 2014 with 30 more original tunes.
He host's the popular weekly
Blue Grass Time radio show
on WUSB 90.1 FM in Stony Brook, NY. since 1991.
www.wusb.fm
for live streaming. all shows are archived for one month.
Buddy's 2009 Release, "Buddy Merriam-Back Roads Mandolin" features 14 of his original mandolin tunes; bluegrass, waltzs, gypsy jazz and some contemporary interpretation of his very original style. He has composed over 1000 instrumentals presently being transcribed and recorded.
Buddy is just putting the finishing touches on his latest CD "The Farm"of original vocal & intsrumental tunes including a couple of Buddy's favorite Bill Monroe songs. Release date is sometime mid October 1, 2014
Buddy is proud that the year 2019 marks his 39th year heading his band.
Buddy performs & records on a Monteleone Grand Artist and a Gilchrist F5 mandolin with D'Addario EXP 74 strings and Planet Waves accessories. He also endorses MI-SI mandolin pickups, LR Baggs picup and preamp.

Ward Cloughen - Double Bass/vocals/harmony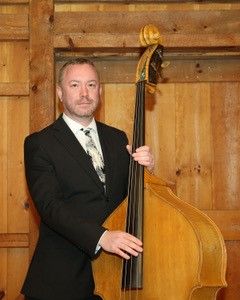 Born November 17, 1978, in Bethlehem, Pennsylvania.  Grew up most of his early years in a Lutheran church where his father was the Minister.  His mother was a Registered Nurse.  Brought up by his father on big band jazz and his mother on classic country but still loved the harmonies from church.  His first experience with bluegrass from memory was seeing a bluegrass band performing at a shopping mall.  As the Waylon Jennings lyric goes he "got his first guitar when he was 14."

 He learned chords and theory from Ralph Tobias at a small music shop outside of Reading, PA.  Eventually he moved to Long Island for college.  After taking a few years off of music he started working at a restaurant - Shandon Court in East Islip, NY.  Listening to the live bands every night got him interested again in performing.  He started playing guitar and singing again and honing his craft.  

10 years later Buddy Merriam asked if he would be interested in joining his bluegrass band - playing upright bass - something he had done jamming with some friends a couple times.  Jumping at the chance he bought a 1937 blonde Kay upright and fell in love.  

He is also an ordained minister through the Universal Life Church and has performed multiple weddings.  Studying bluegrass bass and upright bass in general his influences include:  Barry Bales, David Spicher, Mike Bubb, Travis Book, Willie Dixon, Larry Taylor, Jack Bruce, Marshall Grant and Tony Palumbo.  

He finds performing with Buddy's band inspiring.  "The guys in the band are nothing but top-notch musicians and the kindest people."  In nothing less than 4 months of being in the band he's already has radio play for a song that he wrote and finds that very humbling.  And he's looking forward to nothing but great things for the group.  "Thank you Buddy!"
Beaumont Tamchin - Lead guitar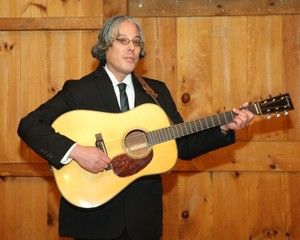 Born in Smithtown New York in 1971 and raised in Setauket New York. Music was always being played around the house as far as can be remembered. His oldest brother had guitars around the house so the learning process started around the age of 10. Beau developed his own style of guitar however through the years of practice on acoustic guitar the influences of the early pioneers of flatpicking and modern players alike are presented in the delivery of the music.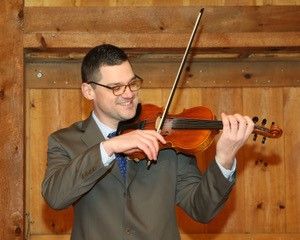 Born and raised in Mount Sinai New York, multi-instrumentalist Brian Chabza has been fiddling for 24 of his 32 years. As a member of various succesful Long Island based bands, and as a private instructor, Brian has been playing fiddle/violin professionally since 1998, and is super excited to have joined Back Roads in the summer of 2012.
Brian's interest in Bluegrass music began in 1996 after hearing Stuart Duncan for the first time playing fiddle on a Bela Fleck album with Sam Bush. That was all he needed to get himself started on his own journey in Bluegrass. Heavily influenced along the way by Buddy, Bill Monroe, Kenny Baker, Bobby Hicks, Vassar Clements, Buddy Spicher, Mark O'Connor, Darol Anger, and more current fiddlers like Casey Driessen, Gabe Witcher and Nicky Sanders.
Brian brings devotion and enthusiasm to his fiddle playing that is obvious to anyone listening. Brian plays a five string Bob Kogut fiddle and uses DPA, and MI-SI mic and pickup systems. As a new father of twins, Brian doesn't have much free time, but if he gets a chance he likes to flat pick his Martin guitar or Weber mandolin.
We would like to thank him for his devotion and time put forth to bring "The Farm" to life in his recording studio at Sound Beach Music, Miller Place, NY
Nicole Evans - Special Guest Vocalist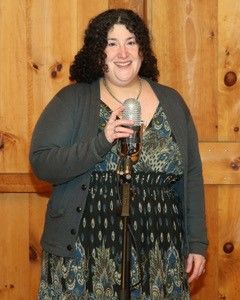 Nicole bring her powerful voice to the band this season.