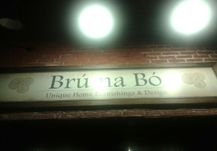 What a very cool venue to play in Northport! Many thanks to
Andrea of the Northport Coalition for the Arts for bringing us in for a very special intimate show at Bru' na Bo'. We had a full house in this distinctive furniture and housewares show room. It was Buddy Merriam and his music of the Mandolin Experience with Brian Chabza on fiddle and Matt Riley on guitar.  Kathy DeVine was featured singing "In These Hills" and "Bad Seed.
If you are ever in the Northport Village, DO stop by and shop!