Buddy Merriam 
celebrates 44 Years in Bluegrass with
Buddy Merriam & Back Roads
1980-2024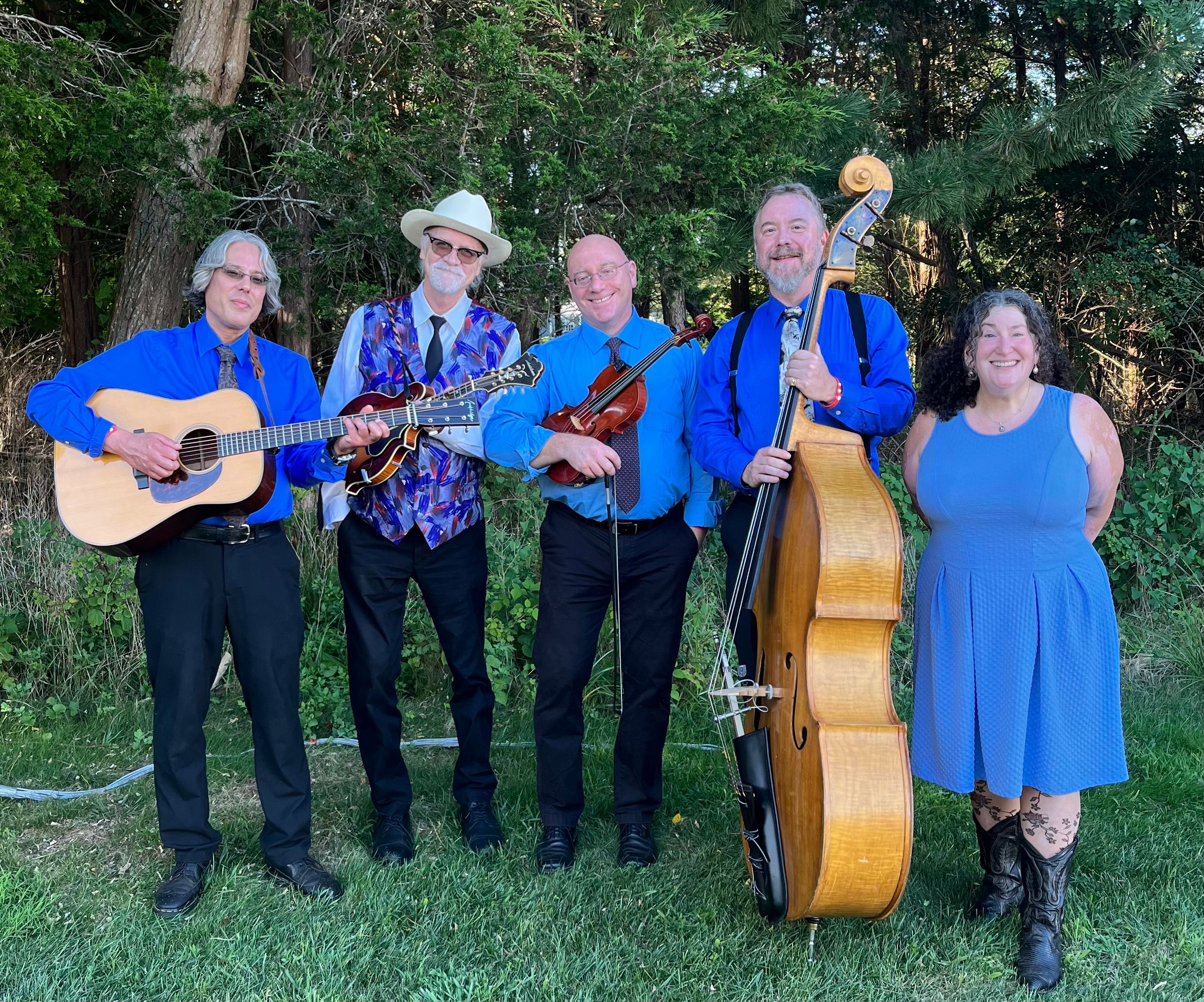 *********************************************************************************
Buddy Merriam Artist in Residence at Stony Brook University in 2019 with 
TAYLOR ACKLEY & THE DEEP ROOTS ENSEMBLE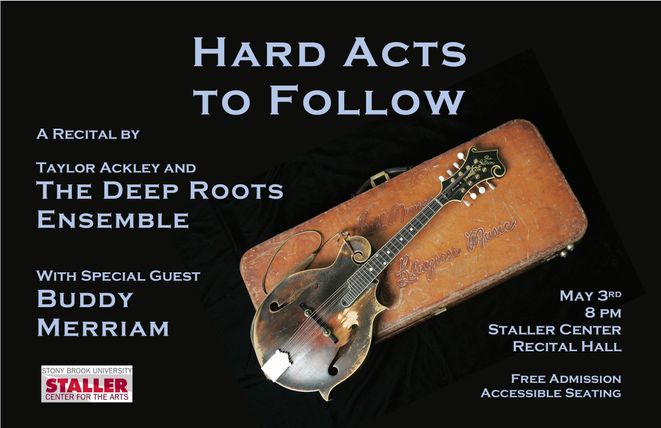 Witness a great night of collaboration between LI bluegrass legend Buddy Merriam and Stony Brook University teacher and talent Taylor Ackley with his Deep Roots Ensemble! Performing 2 sets of American Roots music, bluegrass and 3 Of Buddy's original works
LONG ISLAND MUSIC HALL OF FAME
Long Island Sound Award for Buddy's OUTSTANDING CONTRIBUTIONS TO LONG ISLANDS MUSICAL HERITAGE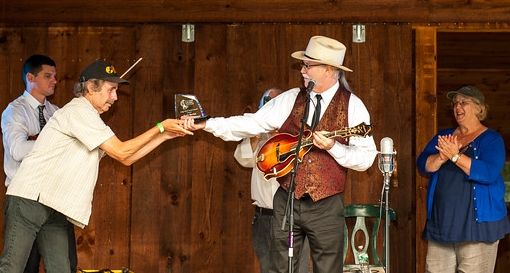 A major award for Buddy Merriam   John Lawless | August 24, 2015 | Bluegrass Today
Buddy Merriam, who has spent the past 39 years performing traditional and original bluegrass music with his band, Back Roads, has been selected by the Long Island Music Hall of Fame as a recipient of their Long Island Sound award, also known as a LISA.
These awards are distributed to musical artists irrespective of genre "for Outstanding Contributions to Long Island's Musical Heritage." In many cases, those who have been awarded a LISA have gone on to receive a full induction into the Hall of Fame.
In addition to touring extensively in the US and Europe, Merriam has hosted a popular radio program, Blue Grass Time, this past 27 years on WUSB 90.1 FM in Stony Brook. It airs Wednesdays from 6:00-8:00 p.m.
Buddy accepted his LISA on Sunday Sept. 13 during the Fiddle & Folk Festival in Setauket, NY.
Well done, Buddy, and greatly deserved!
**********************************************************************************
Back Roads Mandolin Vol 2  Original Compositions
Buddy Merriam's second book of original mandolin compositions, BACK ROADS MANDOLIN Volume Two-  32 Original Compositions, containing all his tunes from his last four recordings along with six new pieces.

BACK ROADS MANDOLIN Volume Two features many of Buddy's most popular compositions including "Blue Grass Time"- the theme song to his long running popular radio program on WUSB 90.1 fm, "Baldassari", "Circle of Chiefs", "Mason's Restaurant" and tunes written for his family members - "Harmony's Waltz", "My Dear Mother's Waltz", "DeVine Time" and "Avery Anne's Reel". Audio tracks are available as well.
 
Transcribed by master mandolinist Lou Martin, the book includes notation and TAB along with some photographs from Buddy's private photo collection.

"Celebrating 35 years with his bluegrass band Buddy Merriam & Back Roads he also presents his original music with The Mandolin Experience. Buddy learned bluegrass music and mandolin one to one from the Father of Bluegrass, Bill Monroe. In turn, Buddy has mentored scores of young bluegrass musicians, teaching them "how to play it right."
**************************************

Performing with his bands, hosting "Blue Grass Time" radio, teaching mandolin and composing music Buddy is helping propagate and grow the music that has been his life for over 40 years.
"...Mandolin Master."  ~ Bluegrass Unlimited   
*   *   *   *   *   *   *   *   *   *   *   *   *   *   *   *   *   *   *   *   *   *   *   *   *   *   *   *   *   *   *   *  
  The Farm  
CD available 
 Buddy's latest recording featuring original new instrumentals, original songs by Matt Riley and a special appearance by the Sound Beach Songbird , Kathy DeVine on "In These Hills".
Send $15 check or money order includes S&H
to
Buddy Merriam PO Box 862 Sound Beach NY 11789
 artwork and graphics by Eyeful Power, Raphael DeSoto 
 Many Thanks to D'Addario for sponsoring us with great sounding strings
and accessories 

"Buddy Merriam & Back Roads are the real deal.  They ... put on a driving bluegrass show that no one I spoke with will soon forget.  In addition to being wonderful and easy to work with, exquisite musicianship is the hallmark of this group and I highly recommend them to all venues." ~ Patrick O'Leary, South Country Library, NY  
"Buddy Merriam has drawn a wonderful audience to our Discover Music series
and our summer concerts in years gone by.  His authentic music and
demonstration of "Monroe Style" mandolin music was the highlight of his program in the Discover Music Series at the East Islip Public Library series that we presented with funding from the Bohlsen Foundation.  Buddy's superb performance on the mandolin and his coverage of Bill Monroe's tunes along with some of his own compositions completes a program that every audience
loves." ~ Lynda A. Moran, Executive Director, Islip Arts Council
****************************************************
The Mandolin Experience at The Patchogue Theater
 *********************************************
Back Roads Mandolin Volume 1 & 2
 "These pieces are interesting, some may be difficult, and all are rewarding. I think you will enjoy this book and that it will make you a better mandolinist ~Lou Martin
 Hey Buddy, 
Thanks so very much for the copies of "Back Roads Mandolin", as well as your latest CD.  I can't wait to show this stuff to my kids.  The books are beautifully laid out and extremely inviting to students.  I am sure that my violinists will find that the mandolin, particularly as you present it,  will be fertile ground for exploration.  I believe there are lots of fascinating connections between the Classical and Blue Grass worlds.  The CD is simply fabulous.  Great writing, great playing, great collaboration.  It really represents the terrific musician I know you to be.  Thanks!

Steve Fayette
North Shore Suzuki School, owner
Shoreham-Wading River HS,  orchestra director 
 ******************************************************************
"Buddy Merriam's dynamic, virtuoso mandolin work makes Back Roads a band to be reckoned with." ~Bill Vernon, WXYU-FM, Lynchburg, VA